In December, the first month after Donald Trump's loss, the NFIB Small Business Optimism Index fell 5.5 points to 95.9, falling below the index's average since 1973 of 98 and falling short of three-digit expectations. Nine of the 10 components of the index declined and only one improved. It should be noted that owners, anticipating an improvement in the business environment over the next six months, fell a whopping 24 points to a net negative 16%, realizing that a Democratic administration is unlikely to be fueling small business growth.
"The decline in small business optimism this month has historically been very large, and it was mainly due to the sales outlook and business environment in 2021," said Bill Dunkelberg, chief economist at NFIB. "Small businesses are concerned about the potential new economic policies of the new administration and the growing spread of COVID-19, which is leading to renewed government-ordered business closures across the country."
Notable findings from the latest report include:
The Uncertainty Index dropped 8 points to 82. The share of owners who think it is a good time to expand fell 4 points to 8%. Sales expectations over the next three months are down 14 points to a negative 4%. the last three months have declined by 7 points to a negative 14%, indicating an increase in profits.
What we found most interesting, however, was what small business owners overwhelmingly identified as the single most important issue. Here, after monthly complaints about the quality of work and poor sales, a new biggest problem arose in December: "taxes" …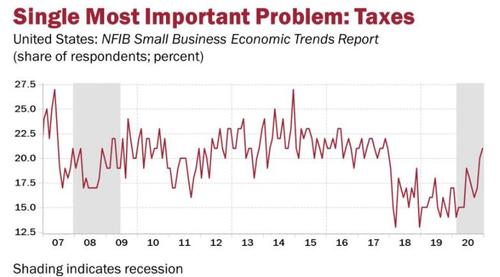 … 21% of respondents complain about the inevitable tax hike under the Biden administration.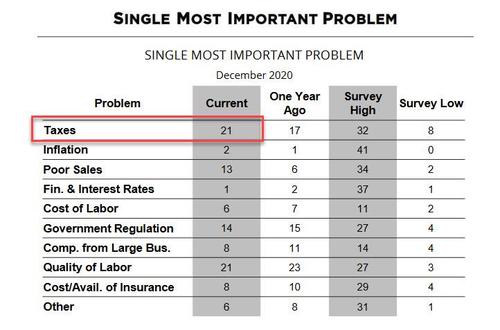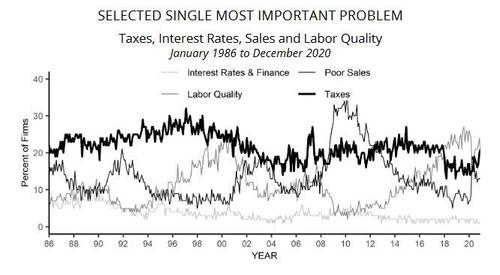 Meanwhile, a paltry 2% complained about inflation, although the market is clearly worried about rising prices.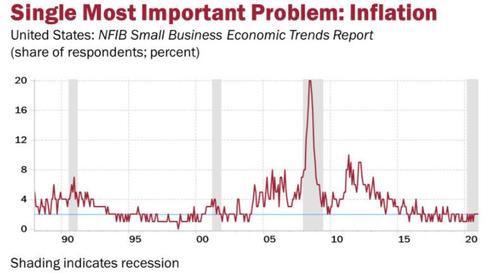 According to David Rosenberg, "The NFIB shows that future tax increases are the # 1 issue for 21% of small business owners. All the short-sighted Mr. Market sees is huge government spending – a near-record low 2% points to inflation as a major concern – nevertheless, the Treasury is scared by this specter (not the first time; not the last). "
Rosenberg, the proponent of permadeflation, is wrong: yes, small businesses are rightly worried about higher taxes, but the reason they are not afraid of inflation is because they focus on the mild type of inflation, the type that helps them grow, rather than a stagflationary wave that is about to sweep the entire country and harm rather than help small businesses. In other words, the country's small businesses are about to face a double blow of higher taxes and lower sales as the US middle class now lives from one government stimulus check to the next.
translation from here
"Exciting Times for Asia Pacific Markets!" (1 week FULL FREE access December 29 – January 6)
Crypto Trading Guide: 5 Simple Strategies To Watch Out For New Opportunity
Now the Elliott Wave Principle, a handbook of wave traders, can be found in free access here
And don't forget to subscribe to my Telegram channel and YouTube channel
Free Guide "How to Find High Probability Trading Opportunities Using Moving Averages"
If you find the article interesting, put the plus signs and add to favorites.