Over the past month, we have made it clear to our readers that there is no other way to characterize today's market behavior as one of the most euphoric periods in history. One of the most stunning charts of today's madness is the Citi Panic / Euphoria, which just hit a record 1.83.
What does it mean? It's simple: As Citi Chief Economist Tobias Levkovich writes, looking at market returns after previous euphoric extremes, there is now "a 100% historical likelihood of markets falling from current levels in the next 12 months."
Lance Roberts, chief investment strategist at RIA Advisors, posted a short video Monday morning explaining how the Wall Street party is spiraling out of control. Roberts notes that capital inflows over the past couple of months have been unprecedented. In addition to speculation, he notes that call option volume is skyrocketing at near record levels. He said that today's speculative environment is a byproduct of the Federal Reserve's easy money policies, as investors believe there is no risk as a Powell put is in effect. Lance said it might be time to give up some risk. In terms of currencies, he said "the dollar has been gaining ground here in recent days," adding that the dollar's fall was a tailwind for equities.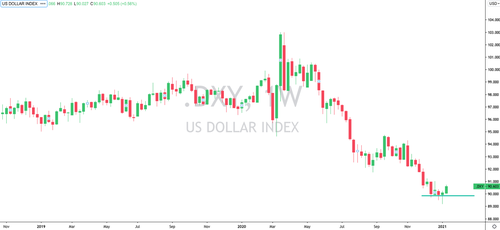 A stronger dollar would be bad news for stocks.Lance concludes by saying, "We are entering the first year of a new ten-year cycle, which may by accident be one of the worst in an entire ten-year period."
What else, besides the rising dollar, could burst the stock market bubble? Perhaps a breakdown in the ten-year yield.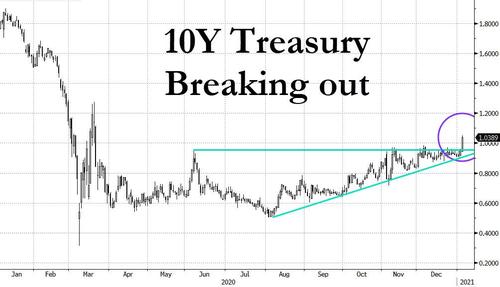 translation from here
"Exciting Times for Asia Pacific Markets!" (1 week FULL FREE access December 29 – January 6)
Crypto Trading Guide: 5 Simple Strategies To Watch Out For New Opportunity
Now the Elliott Wave Principle, a handbook of wave traders, can be found in free access here
And don't forget to subscribe to my Telegram channel and YouTube channel
Free Guide "How to Find High Probability Trading Opportunities Using Moving Averages"
If you find the article interesting, put the plus signs and add to favorites.