The past few months can best be described as a period of unprecedented market optimism and sheer euphoria, and we have done so in several recent articles. But if in the recent past euphoria has always been limited to the upper limit reached during the insatiable surge of buying in the dot-com bubble, then in the first week of the year we went off schedule. Literally. As the latest Citi Panic / Euphoria model shows, Panic / Euphoria jumped to a record 1.83 this week from an upwardly revised 1.69 in the previous week.
What does it mean? It's simple: As Citi Chief Economist Tobias Levkovich writes, looking at market returns after previous euphoric extremes, there is now "a 100% historical likelihood of markets falling from current levels in the next 12 months."
"Nasdaq volume as% of NYSE (albeit volatile), retail money market funds, margin debt, AAII & II bullish sentiment, put / call premiums and NYSE short-term interest rate ratio all contributed to the boom," Citi said.
And to further confuse, in the same report, Levkowicz writes that "an analysis of the gap in normalized earnings is 1.56 standard deviations below its 40-year average, which gives an 88% chance of markets growing one year from now, based on history. . " So … there is a 100% chance that the market will be lower and an 88% chance that it will be higher: great.
Citi was not alone in being stunned by the record market euphoria: In his latest flow and liquidity report, JPM analyst Nick Panigirtzoglu took a break from criticizing Bitcoin (well, not really, more on that in the next post, suffice it to say that anyone who listened to it and sold missed out on 35% of last week's gain last Friday), and instead reflects on market resilience driven by – what else – investor euphoria:
"The Democratic rally this week has added oil to risk markets and pushed US government bond yields to new highs. Neither the violent scenes on Capitol Hill nor the potential negative effects of a Democratic sweep, such as higher taxes and stricter regulation, have been able to upset risk markets this week. Risk markets showed similar resilience in December. At the time, the absence of any new policy impetus from the Fed, rebalancing of pension fund flows and fears of a UK variant of the virus failed to upset risk markets. "
What, according to JPM, explains the remarkable resilience of equity and risk markets in general since December? The answer is simple: central banks, or rather liquidity, "which seems to be reflected heavily through retail investors again, echoing last year's second quarter." Panigirtzoglu points to the activity of retail investors, especially young cohorts, and says that this is "the expectation of further stimulus from the US" …twitter.com/BloombergTV/status/1346565509400174593… "this strength is likely to be sustained in the coming weeks," JPM says and points to several indicators of euphoric activity by retail traders, including record call trading on the exchange, which is causing yet another gamma squeeze (or, as JPM claims "To the extent that this accumulation of long positions in call options continues by retail investors, it may eventually lead to increased sales by delta hedging the accumulated short positions in call options by dealers on the other side, as in August last year ").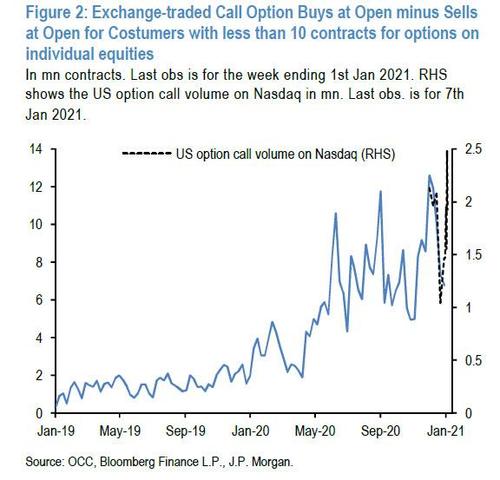 To quantify the latter, JPM looks at six major OTC marketplaces used by retail brokers: Virtu Americas LLC, Citadel Execution Services, G1 Execution Services, Two Sigma Securities LLC, Wolverine Securities LLC, and UBS Securities LLC. The chart below shows the cumulative share of OTC transactions directed by retail brokers to various markets (destination stream), again as a percentage of the total US equity market. After a slowdown in the third quarter, US retail activity "rebounded strongly in November."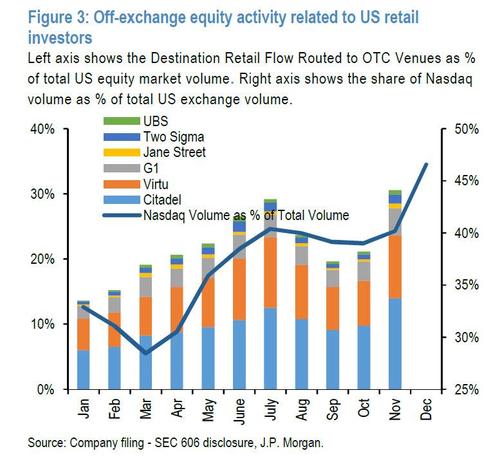 And this graph is only until November: one can only imagine that here we will need a larger graph for December data.
The JPM thus concludes that the record euphoria is driven by the "power of liquidity," ie central banks and the latest round of fiscal stimulus, which appear to have hit retail investors hard again, echoing last year's second quarter. Given the anticipation of further fiscal support (for example, additional US stimulus checks of $ 1,400 to get the initial $ 2,000 offer), this strength is likely to continue in the coming weeks. "
translation from here
"Exciting Times for Asia Pacific Markets!" (1 week FULL FREE access December 29 – January 6)
Crypto Trading Guide: 5 Simple Strategies To Watch Out For New Opportunity
Now the Elliott Wave Principle, a handbook of wave traders, can be found in free access here
And don't forget to subscribe to my Telegram channel and YouTube channel
Free Guide "How to Find High Probability Trading Opportunities Using Moving Averages"
If you find the article interesting, put the plus signs and add to favorites.