Rounding out the flurry of big-bank news for Q4, Morgan Stanley reported its results for the last quarter of 2020 this morning, and it probably won't come as a big surprise that, like Goldman yesterday, they were stellar. Morgan Stanley reported net income of $ 3.39 billion, up 50% from $ 2.24 billion a year earlier, bringing an adjusted EPS of 1.92 (the company used an effective tax rate of 23% versus 15.7% a year ago), surpassing the estimate of 1.27 on revenue of 13.6 billion, up 26% YoY and more than $ 2 billion above the consensus forecast of 11.54 billion.
The impressive quarter was driven by stellar results in the core institutional securities division (i.e. sales, trading and investment banking), which exceeded expectations:
Revenue from sales and trading in stocks USD 2.50 billion, + 30% YoY, estimate USD 2.15 billion FICC revenue from sales and trading USD 1.66 billion, + 31% YoY, estimate 1.51 $ 2.30 billion in institutional investment banking revenue, an estimate of $ 1.64 billion, as stock underwriting more than doubled from a year earlier.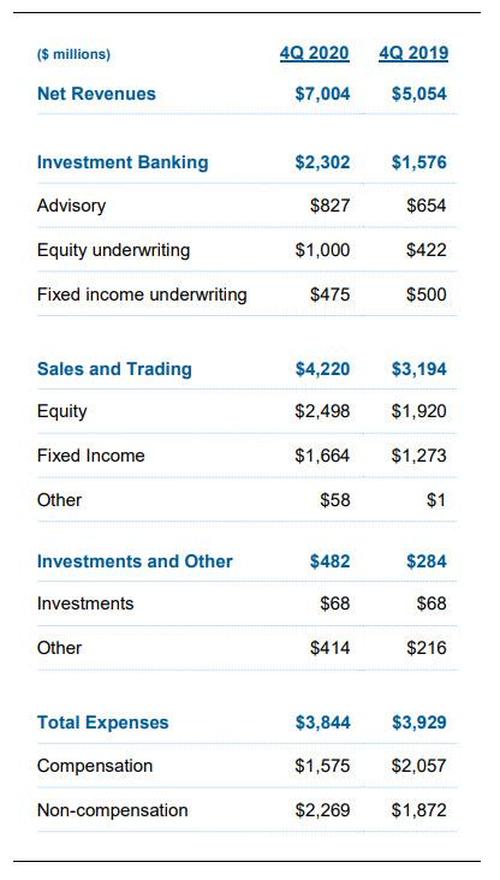 Investment Banking Revenues Up 46% YoY:
– Income from consulting services increased compared to last year, "due to more completed mergers and acquisitions."
– Income from underwriting shares increased compared to last year, "due to increased income from IPOs, blocking and subsequent placements."
– Revenues from fixed income underwriting declined year-over-year "as lower volumes contributed to lower bond yields, partially offset by higher event activity."
Net income from sales and trading grew 32% year-over-year:
– Net revenue from equity sales and trading operations increased year-over-year, "reflecting strong product and regional performance driven by increased customer activity, especially with derivatives."
– Net profit from fixed income sales and net profit from trading increased from a year ago, "reflecting strong business performance benefitting from strong customer interactions and market volatility, as well as notable growth in foreign exchange and lending products."
Other net sales and trading revenue increased year-on-year, reflecting investment gains associated with certain deferred employee benefits plans.
Interestingly, under Institutional Securities, like yesterday's Goldman, compensation costs were down year-on-year, driven by lower discretionary compensation partially offset by an increase in the fair value of investments associated with the deferred compensation plan. At the same time, non-reimbursement expenses increased year-on-year, driven by an increase in expenses, an increase in legal costs and an increase in the provision for loan losses on unsecured loan commitments.
The same is not true for the parent bank as a whole: Compensation expenses rose 4.2% to $ 5.45 billion and exceeded the estimated $ 5.08 billion, while non-compensation expenses were $ 3.76 billion. dollars, + 30% y / y, are estimated at 3.26 billion dollars.
Famed asset management group Morgan Stanley also posted an impressive quarter, with $ 5.68 billion in net revenues up 24% YoY and also surpassed the $ 5.01 billion estimate. The firm relies on money management for wealthy individuals and other clients, which generates more than half of its income each quarter. Business is fueled by acquisitions by Eaton Vance Corp. and E * Trade Financial Corp.
The disruptive quarter helped Morgan Stanley post the best year in history, generating $ 48.2 billion in revenue and just under $ 11 billion in net income. As Goldman notes, during his ten years as head of the firm, Gorman closed two of the largest deals for one of the leading banks on Wall Street. This was accompanied by record earnings and a sharp rise in stocks, bringing the company's market capitalization to over $ 135 billion, effectively ending Morgan Stanley's reputation as Wall Street's smallest major bank.
"The company posted very strong quarterly and full-year record results with excellent performance across all three business lines and geographies," Morgan Stanley CEO James Gorman said Wednesday.
And judging by the stock reaction, the market agreed: MS shares rose 3% premarket after the bank's breakout quarter.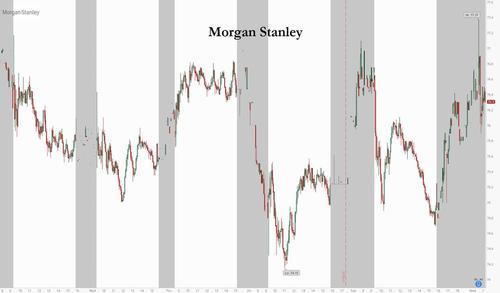 translation from here
This is why Bitcoin "rejected" the $ 42,000 mark
Crypto Trading Guide: 5 Simple Strategies To Watch Out For New Opportunity
Now the Elliott Wave Principle, a handbook of wave traders, can be found for free here
And don't forget to subscribe to my Telegram channel and YouTube channel
Free Guide "How to Find High Probability Trading Opportunities Using Moving Averages"
If you find the article interesting, put the plus signs and add to favorites.