Good afternoon, dear traders! There are a large number of systems where the value of the extremes of both the current and the previous trading day is taken as their basis. Today I present to you the indicator of highs and lows – Trade Day, which simplifies trading with such systems.
The Trade Day indicator reflects on the chart the value of the high and low of the price of the previous trading days (the number of them is set in the settings), as well as the current day.
Attention, the Trade Day indicator is for informational purposes only!
Download the indicator from the link at the end of the article and install it instructions…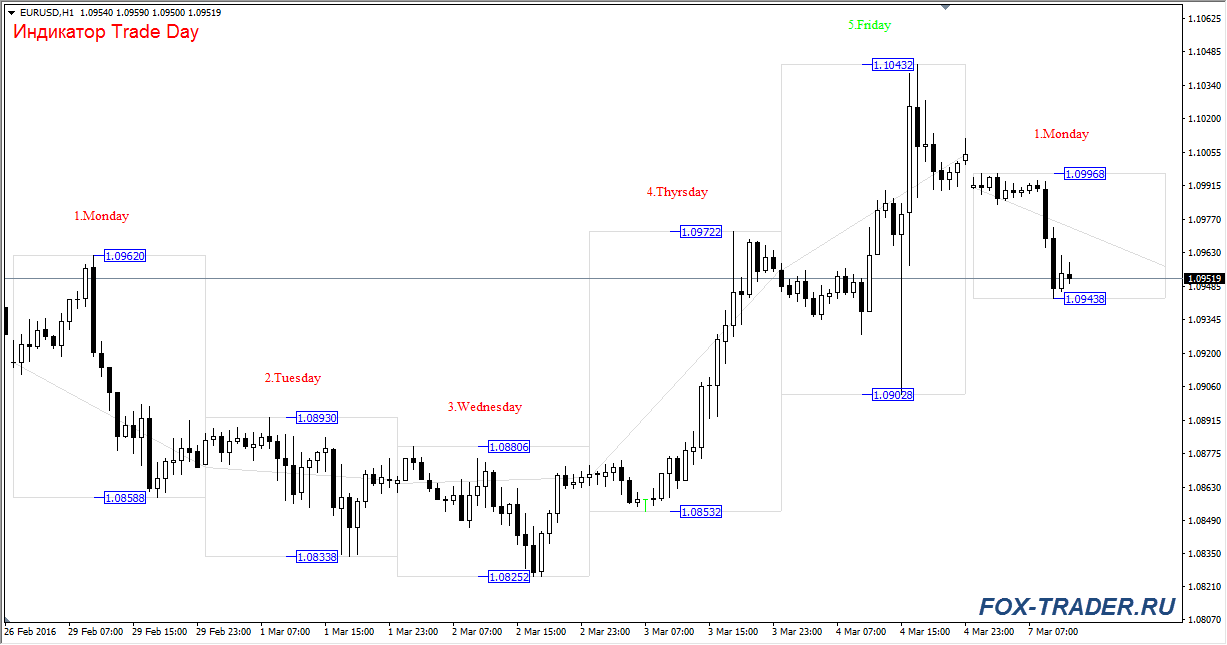 The indicator has four main settings:
Color2 – display color of the rectangle lines (trading day boundaries);
Color3 – color of extreme values;
Limit – history depth, for how many last trading days to show the value of extremes (default 30);
Sho_bars – on off. reflections of lines of rectangles and values ​​of extremums. If you choose "false", then only the description of the days of the week will remain on the chart. For what and what the author of the indicator wanted to convey with this parameter, it is not clear. In general, a useless setting parameter, I don't see any sense from it.
Of course, the indicator is indispensable for trading strategies based on breaking through levels, in particular the extremums of the previous day.
Of course, some traders will say that the indicator is useless, except for cluttering the chart, it will not bring any "benefit". But I disagree with this opinion, it facilitates the work, and will undoubtedly save you time when analyzing trading systems based on extreme values.
Let me give you an example: there is a description of a rather profitable strategy on my blog "Day range"… So, you will manually search for the extremes of the previous days (at least the last 30) for a very long time to fully analyze the past strategy signals. And if there is more than one currency pair, time is not a pity ?! So download the indicator and use it to the fullest.
Download the indicator of highs and lows for the mt4 terminal – Trade Day
Happy using the indicator! Goodbye.
Best regards, Evgeny Bokhach
Similar articles:
Trading session schedule (online services, indicators)
Murray levels indicator
Pivot levels. Pivot Points and AIME Pivots Indicators
Entry and exit points indicator