Having recently made an even more optimistic outlook on the oil market by shifting their $ 65 target price for Brent crude for the summer on Monday, overnight Goldman's commodity team became even more bullish on oil, "discovering" an unexpected source of demand oil prices in the near future, which could lead to even greater increases in oil prices in the coming days. In particular, according to Damien Kurvalin of Goldman, in the coming weeks, global oil demand will grow by at least 1 million barrels per day, as cold weather stimulates the use of diesel fuel for power generation. As Kurvalin explains, low temperatures in Asia and Europe in the face of LNG supply problems have led to a surge in local gas prices. In particular, we discussed the record prices of JKM yesterday …
… contributed significantly to the use of diesel in the electricity sector, although the TTF rally this week still falls short of par for fuel oil. Goldman believes that this substitution-driven price increase could increase global oil demand by at least 1 million barrels per day, with upside potential of 1.5 million barrels per day (especially if TTF prices exceed USD 10 per million BTU ) Goldman based this estimate on the cold winter 2017 precedent, transferring OECD data to the rest of Asia. As the bank explains, "The simple downward weather pattern of winter heating demand in Asia and the EU confirms that the recent cold wave will increase demand by 1 million barrels per day, even before the impact of additional fuel changes at such extreme price fluctuations (with the dynamics of working from home, indicating a potentially even stronger impact on demand).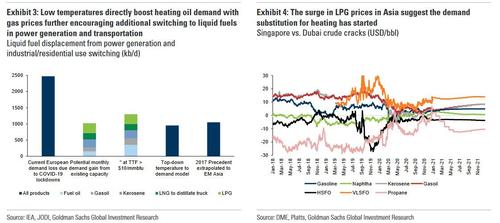 The steady decline in power generation from heavy fuel oil in recent years ultimately limits the scale of this replacement, which likely explains the scale of the JKM gas rally, which is currently addressing declining end-use LNG demand in the freight and industrial sectors. According to Kurvalin, this, in turn, will provide additional support to the demand for diesel fuel and liquefied gas. Such demand support will certainly be temporary, with higher expected LNG receipts in the coming weeks and milder weather forecasts in Asia. However, even assuming only three weeks of impact, this temporary surge in demand "would nonetheless help offset half of the 1.5 million barrels per day decline in global transportation demand" that Goldman expects in January due to restrictions (with the separation of the polar vortex, potentially leading to additional cooling).

This massive increase in oil demand in February and March by an unexpected 1 million barrels per day will be followed by a production cut in Saudi Arabia announced on Tuesday, consoling Goldman that oil prices will continue to rise to 65 in the coming months. dollars per barrel by July.
Goldman's recommendations helped lift oil prices early yesterday, with Brent dropping more than $ 1 a barrel after 8:30 am ET after OPEC Secretary General Barkindo warned that while the worst for the oil market is over, and OPEC is positioning itself for a strong recovery in 2021, high crude oil inventories remain "a key issue in market imbalances" – a comment that pushed oil prices to session lows yesterday.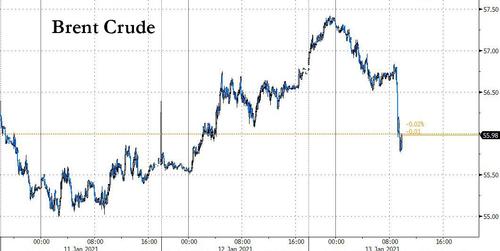 translation from here
This is why Bitcoin "rejected" the $ 42,000 mark
Crypto Trading Guide: 5 Simple Strategies To Watch Out For New Opportunity
Now the Elliott Wave Principle, a handbook of wave traders, can be found in free access here
And don't forget to subscribe to my Telegram channel and YouTube channel
Free Guide "How to Find High Probability Trading Opportunities Using Moving Averages"
If you find the article interesting, put the plus signs and add to favorites.